| | |
| --- | --- |
| Apron conveyor | |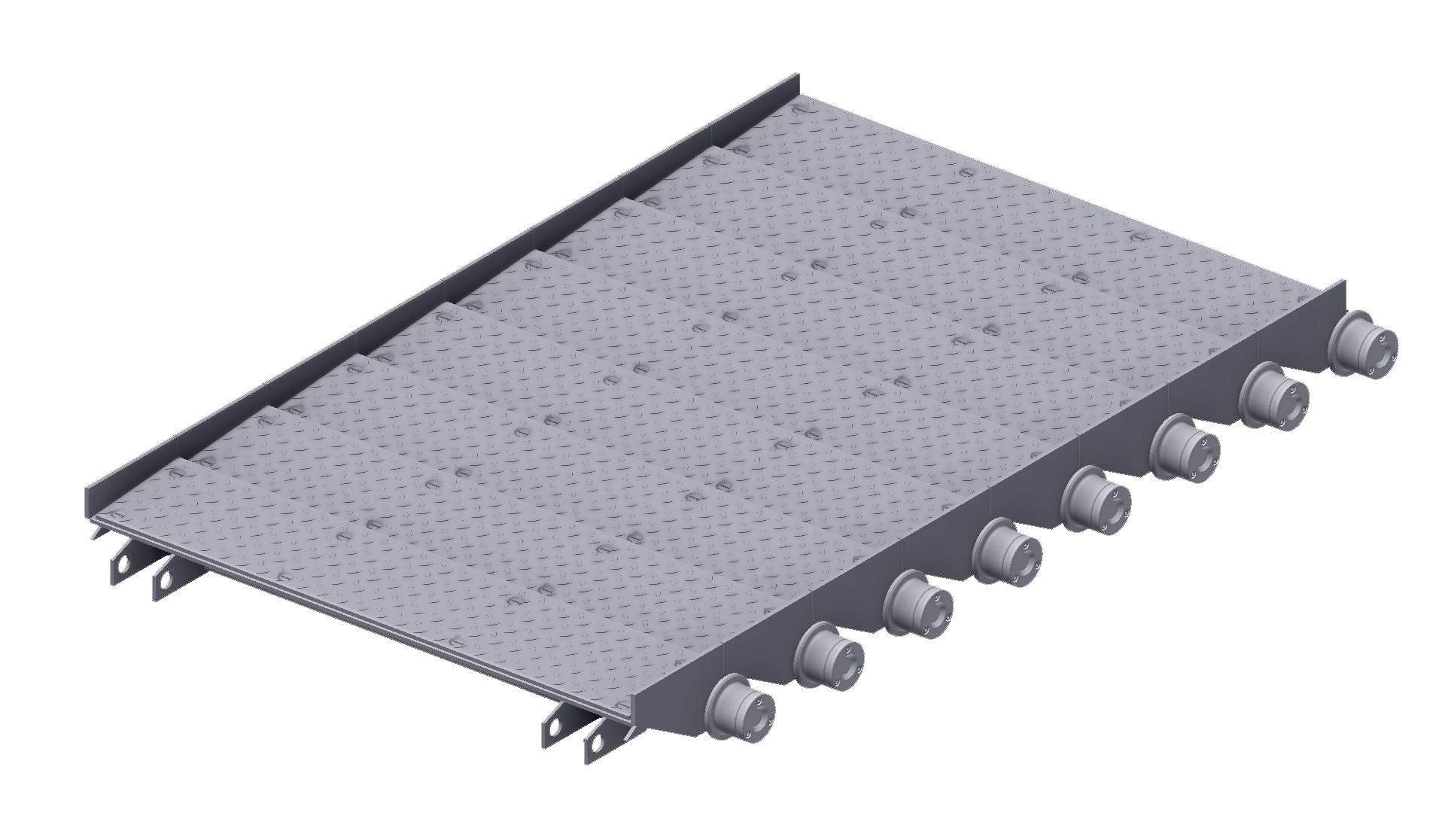 The SMD apron conveyor is predominantly used for the transport of heavy, coarse, sharp and highly abrasive conveying materials. It is compact, low-noise, highly wear – resistant and easy to maintain. The SMD apron conveyor can also be supply as submerged chain conveyor. Similar to the SMD trough chain conveyor and the submerged chain conveyor the apron chain conveyor is designed individually. In doing so the manufacturing of a reliable, easy-to-maintain plant guaranteeing a long service life is our goal. This is realized by the usage of appropriate materials and material combinations. The layout of the lines are individually adapted to any special application purpose.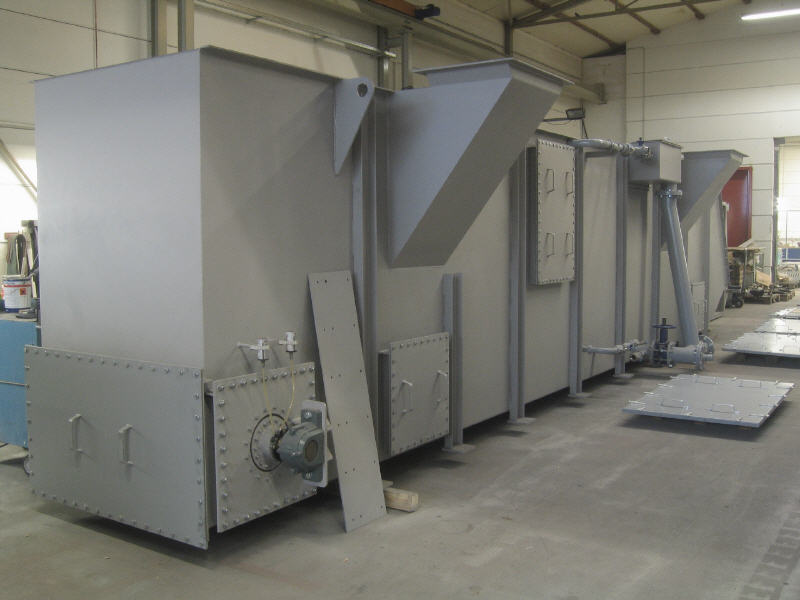 The SMD apron conveyor consists of the construction units drive station and tensioning station, a trough section and a two-line conveyor chain with carrier plates interminably rotating within the trough section. Or drive- and tensioning stations are designed easy to maintain. The housing of the drive station is constructed devisible. This eases the exchange of the chain wheels during revision. Likewise the complete shaft including chain wheels and bearings can be removed from the housing of the tensioning station. The SMD submerged chain conveyor model can be supplied with a tensioning station being constructed below or equipped with an additional trough- above the water line.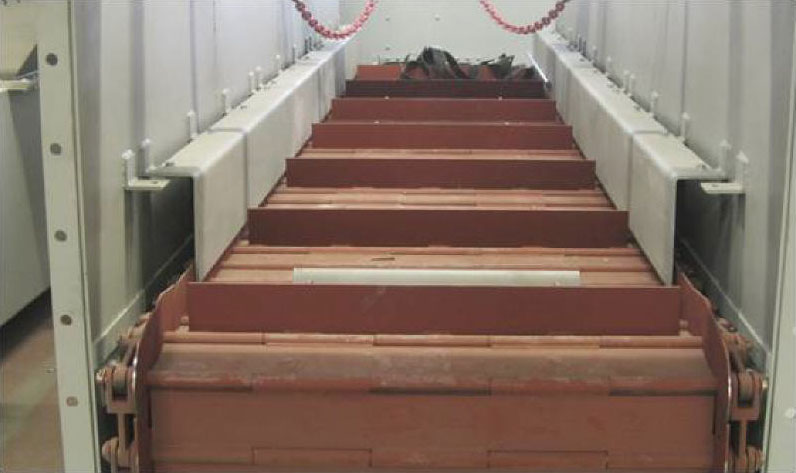 The individual plates of the SMD chain sprockets are devisible. This minimizes the assembly effort and reduces the idleness of the plant. By using exterior pedestrial bearings we reliably prevent the intrusion of conveyed materials into the shaft drive's and shaft axle's bearing location. Monitoring devices such as speed monitors and chain break- and chain tension surveillance are also comprised in our scope of supply. Due to the closed construction of the trough section no materials conveyed can escape into the environement. For easy access during inspections and revisions all trough covers can be taken off. In order to prevent extreme abrasion on the carrier plates, these plates can be manufactured of wear-resistant metal sheets.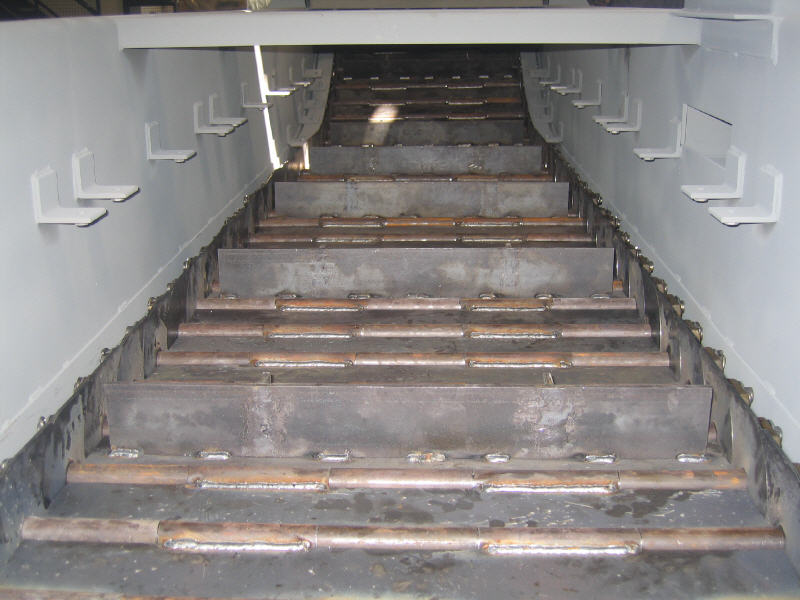 The SMD submerged chain conveyor version includes an apron conveyor equipped with a water tank. The automated water feeding and spillway is located herein. For emptying the SMD apron conveyor is constructed with a drainage nozzle with slider. The SMD apron conveyor is designed as double-strand conveyor with standard forged fork link chains as traction mechanism. It is applied in block heat and power plants, biomass combustors (matured timber, timber, bio-waste) and incineration plants (household waste, special waste), coal-burning power plants and other plants. It conveys slag, ash, hard rocks, ore.